Sprinkler Installation in Westford, Massachusetts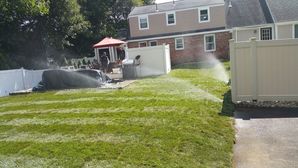 Grasshopper Irrigation, Inc sprinkler systems are installed with respect for your Westford property. Our system installations are created for minimal disturbance of your property.
Grasshopper Irrigation, Inc sprinkler installations are neat and complete. Our irrigation installation team provides professional, top-notch workmanship that is second to none. Whether commercial or residential, Grasshopper Irrigation, Inc will maintain a clean work environment and will leave your Westford grounds spotless.
When your installation project is complete, you will have an automatic irrigation system that will keep your Westford, Massachusetts lawn and garden beautiful year after year. Your installed system will deliver water only where and when it is needed, saving you time and money.
Your newly installed Grasshopper Irrigation, Inc sprinkler system will have three main components:
Sprinklers – to deliver water to you lawn and plants. They will be sized and directed to distribute the correct amount of water to your vegetation.

Valves – to release water through a series of underground pipes to the sprinklers. The number of valves used will depend on the number of zones required for your system.

Controller – to activate the water flow to various zones. Your controller will be automated to turn valves on and off on a schedule, so that your lawn will receive optimal watering coverage and time.
Install a sprinkler system at your Westford property and enjoy lush green grass! Call now for a free quote!
---
Call for FREE Sprinkler Installation Quote
---
WHAT CUSTOMERS ARE SAYING:
5★★★★★ - "I was extremely satisfied with my installation except for one head that was set too close to the surface, everything else was well done. The crew was courteous, respectful, and efficient. Couldn't be happier."

Clifford D King in Billerica, MA

2020-10-09

5★★★★★ - "Great service. Install went great last season. Guys were very professional"

Anonymous, Sprinkler Installation in Tewksbury, MA

2018-03-27

5★★★★★ - "I would like to give a shout-out to Patrick, the Grasshopper Rep who came today to perform the Spring Turn On of my system. He was awesome, very professional, and friendly. I had a couple of issues from last summer and he took the time to listen to me and adjusted everything accordingly."

Donna L, Wilmington

2021-05-20

5★★★★★ - "The technician arrived early. He was very efficient, helpful and addressed issues; and fixed problems."

Tim, Sprinkler Repair in Tewksbury, MA

2021-05-04

5★★★★★ - "We have used Grasshopper Irrigation for 17 years and have always been completely satisfied with their services. We have had a few issues with our lawn, which is always beautiful, and Dennis has always sent someone right out to see what the problem may be. In one instance, our snow removal service man had broken sprinkler heads, another was overgrown shrubbery constricting the flow of water to designated areas. No matter what the problem was, Grasshopper was always willing to come out, correct it, and make our lawn beautiful again!
We usually have Mike, a long time employee, and he is great!
Professional people, always come within the time frame given, and we have never been disappointed.
We highly recommend Grasshopper Irrigation.
Dr. David Simkin and Margo Sargent Simkin, Andover, MA."

Margo Sargent & Dr Simkin in Andover, MA

2020-03-02

5★★★★★ - "Dennis runs a great business, thanks for the great service. Can't wait till spring gets here."

Anonymous in Tewksbury, MA

2020-02-27

5★★★★★ - "Jeremy came out to do our winterization and was fantastic. We recently moved into our home and I was unsure where all our shutoff valves for outdoor spigots were located. By the time Jeremy had finished the winterization, he had turned off and tagged all my shutoff valves in the basement. He went above and beyond and I appreciate it!"

Kim Allen

2019-11-13

5★★★★★ - "Great experience. Crew was professional, neat, courteous. Dennis and Bev were great to deal with."

Mike L in Lowell, MA

2019-05-08
---
Call for FREE Sprinkler Installation Quote
---