Landscape Lighting
Grasshopper Irrigation, Inc is the area's choice for innovative design and installation of beautiful commercial and residential landscape lighting systems since 1997. Grasshopper Irrigation, Inc works with only the highest quality manufacturers of low voltage outdoor lighting systems, such as Auroralight, CAST, Lighting, FX Luminaire, Kichler, Nightscaping, Sollos and Unique Light Systems.
---
Call for a FREE Quote
---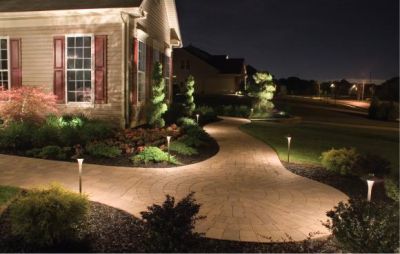 Outdoor lighting will allow you to fully utilize all of the beauty of your home's landscaping. Landscape lighting by Grasshopper Irrigation, Inc will help you enjoy your own backyard oasis to the fullest extent. Not only does landscape lighting keep your family safe by increasing security, it also enhances your homes beauty and increases the value of your biggest investment. Let Grasshopper Irrigation, Inc install landscape lighting in your home or place of business, and discover your property's fullest potential!
Why Choose Grasshopper Irrigation, Inc to Install Your Low Voltage Landscape Lighting?
Outdoor Security: Garage Floodlights cover patches of your yard, and cast shadows over others. A better choice is the use of strategically placed low voltage lights. They will provide beautiful, even illumination around your yard.
Outdoor Lighting Safety: Low voltage landscape lighting is ideal for subtle yet effective illumination of walkways, driveways and entrances. Proper lighting ensures that family members and visitors can safely navigate your property.
Outdoor Lighting Usability: You won't have to stop the game when the sun begins to set! Enjoy your back yard, deck, sitting areas and patio at all times of the day or night with Grasshopper Irrigation, Inc's landscape lighting.
Outdoor Lighting Beauty: Low voltage lighting can accentuate unique shapes, textures and colors of a landscape design and it's structures. Our lighting designers can create dramatic sense that enhance the beauty of any property.
Outdoor Lighting Value: Low voltage lighting consumes just 1/3 of the electricity that high voltage systems consume, saving energy and saving money. In addition, low voltage lighting is less expensive to install.
---
Call for Fast FREE Quote
---